Best Prototyping Solutions & Trade Show Exhibits Provider 2021
PS Modellbau Prototyping Solutions wurde vom Magazin EU Business News mit dem German Business Award "Best Prototyping Solutions & Trade Show Exhibits Provider 2021" ausgezeichnet. 
Der German Business Award belohnt Firmen aus ganz Deutschland für ihre Innovation und Exzellenz in ihrer Geschäftspraxis sowie ihre herausragende Gesamtleistung.
Das Team der PS Modellbau freut sich sehr über die Auszeichnung als Anerkennung seiner Leistung. Wir verstehen diese Auszeichnung als Bestätigung unserer bisherigen Leistungen und als Motivation, den eingeschlagenen Weg weiterzuführen und im Sinne unserer Kunden stetig zu verbessern.
United Kingdom, 2021 – EU Business News Magazine have announced the winners of the 2021 German Business Awards.
This past year has continued to become a challenging gauntlet for all businesses across the world thanks to Covid and the resulting aftershocks 2021 has yet again been tiresome and difficult for many. Yet the continuation of the German business landscape acts as a testament to the strength of the country's companies as a whole. Despite challenges – and there have been many businesses have still managed to navigate the uncertainty to thrive, and in some cases, become stronger.
Indeed, as we're seeing now, many have emerged from the COVID-19 pandemic ready to face the world and accomplish more than ever thought possible. EU Business News looked to showcase a few of the many worthy businesses across Germany in the 2021 programme. Speaking on the success of this year's winners, Awards Coordinator Holly Morris said: "The German Business Awards return once more, allowing EU Business News to reward the hardworking individuals and firms hailing from Germany for their innovation and excellence in their industry. I offer a heartfelt congratulations to all those recognised in the programme."
EU Business News prides itself on the validity of its awards and winners. As such, very one of our winners can be certain that their success is deserved. We carefully evaluate everything from a business's, or individual's, performance over the past 12-months to ensure that only the most deserving parties walk away with one of our prestigious awards.
To learn more about our award winners and to gain insight into the working practices of the "best of the best", please visit the EU Business News website https://www.eubusinessnews.com/winners/psm-prototyping-solutions-modellbau-inh-dipl-ing-martin-feller/ where you can access the winners supplement.
---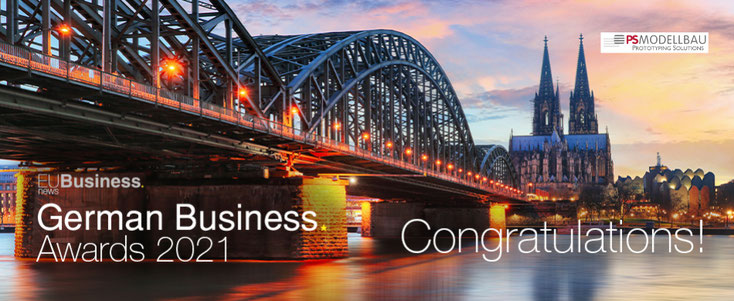 ---